Art, Great Again! (2016-17)

Art, Great Again! is a portrait series of artists responding to the 2016 presidential elections through their work.

The project focuses on New York based artists who convey a range of political leanings, artistic styles, mediums, and
subject matter. It documents the emergence of artists catering to the conservative bias, and many works from the
left protesting or satirizing the new Trump administration.

This project sought to address questions such as: Do beliefs lie in bubbles or on a spectrum? What role does art, its
creators, and its presentation play in political discourse, especially during a time of intense polarization? Through
portraiture, I explored ways of representing the artist as both interpreter and consumer of political culture. Each
portrait is collaborative and features the artist's work in some form.

This project was my Master's Project at Columbia and was selected as part of Open Show at the Bronx Documentary
Center in July 2017. In 2018, the portrait of Lucian Wintrich was selected as part of American Photography 34.









Qinza Najm is a Pakistani American painter known for large scale paintings of women wearing hijabs. In Feb. 2017,
Najm staged a fashion show in New York responding to newly-elected President Trump's travel ban policies — Najm,
alongside models from the seven nations affected by the ban, walked the runway posing as Statues of Liberty.

"At the fashion show, people couldn't stop clapping — they were crying. When they were writing comments on
our bodysuits, they were writing on the souls of Muslim people, saying 'We are standing next to you.'"









Maria De Los Angeles is a Mexico-born artist recognized for her painted dresses — or, wearable portraits
of human displacement and the immigrant experience.

Educated at Pratt and Yale, De Los Angeles is a DACA recipient who immigrated to California at 11 with
her family. She began making dresses since the beginning of the election campaign, increasingly interested in
the controntational aspect of wearing stereotypes on one's body. She uses acrylics to paint abstract landscapes
of migration, or at other times, to write overt commentary on deportation.

"I wanted to create a more nuanced portrait of immigrants," she said, "and also place myself in my work."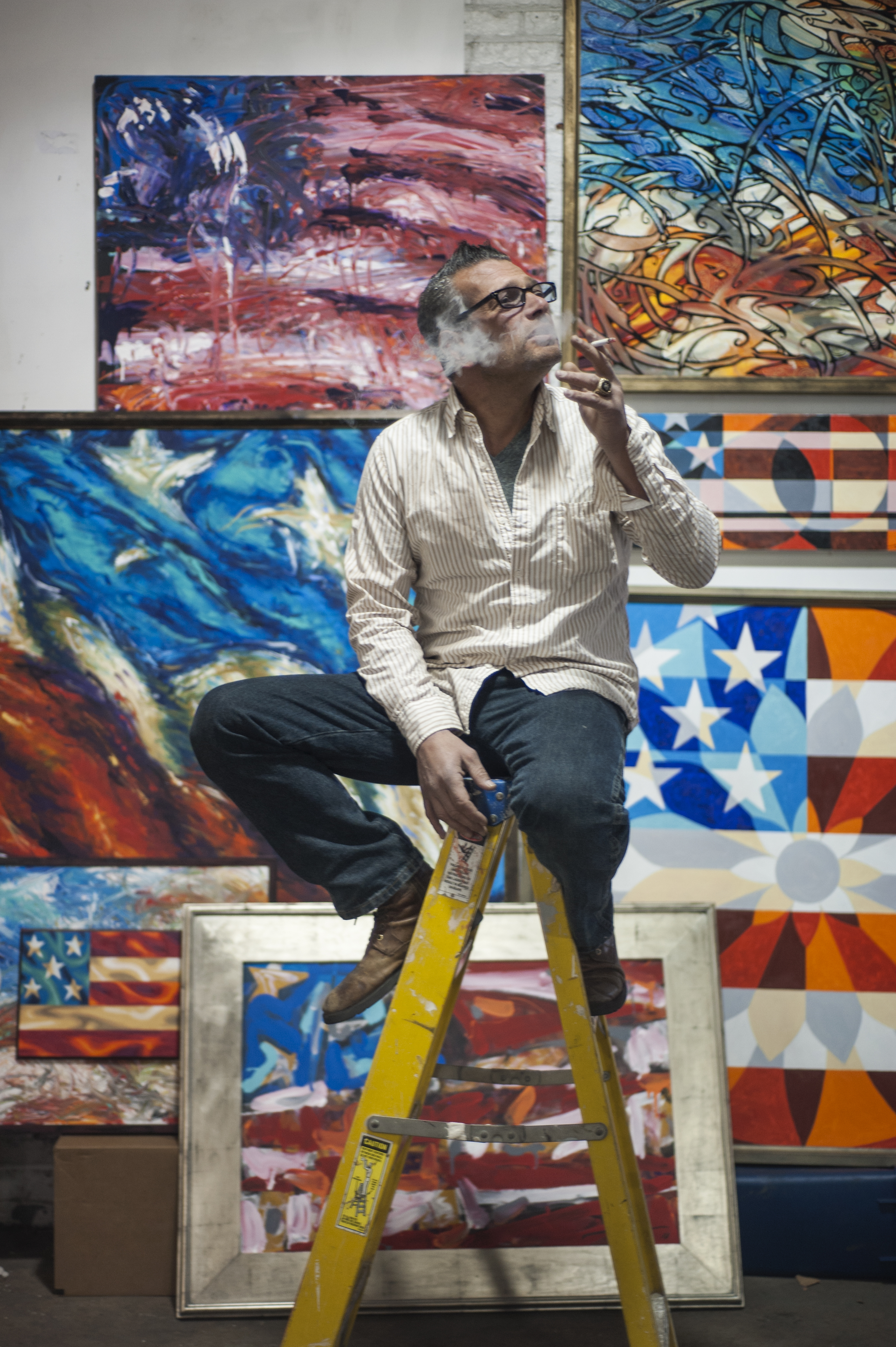 Scott LoBaido is a painter from Staten Island who makes abstract paintings of patriotic symbols. He has toured all
50 states, painting a giant flag in each to commemorate U.S. veterans. He is known for his vocal support for Trump.
As a result of his political beliefs, LoBaido says he has been an outsider in the art world. His work communicates
the romance of Americana and the notion that being American should be something to be proud of. "We're not
perfect, but we're the best there is. You come here and you struggle, you know? I think that's sexy."

LoBaido says his art is for the "deplorables—those who support Trump, work hard, and don't have time for
fancy hoity-toity art."









Lucian Wintrich (L) is a right-wing photographer known for a photographic series called "Twinks for Trump."
The series features shirtless young gay men wearing MAGA hats, a body of work which was exhibited at the
2016 Republican National Convention. He is pictured butchering a goose with his partner Brian Alarcon,
who had modeled for Twinks, taking a bath.

Wintrich, an outspoken media personality responsible for organizing the first pro-Trump art show in 2016
(titled "Daddy Will Save Us"), said he has been called the "wrong kind of gay" by liberals for supporting
Trump in the 2016 election.









Brian Whiteley is an artist and creator of a tombstone featuring Donald Trump's name. It appeared in Central
Park on Easter Sunday 2016 to massive media attention and eventual police and Secret Service involvement. The
tombstone is made from Vermont granite and weighs around 500 pounts.

Once it was installed in Central Park (around 5 A.M.), it "just kind of blew up. I was on the New York Times
crime section, then on the arts section the next day," he said.

"My mother voted for Trump. I have a hard time talking with her now. We're talking about basic moral issues
— repealing Obamacare, which [she had her] grandchildren under. Trump is not an example for my son or
anyone to look up to."









Sam Lavigne is an artist whose work deals with serveillance, data, and automation. In response to the election, he
created a video piece called Guided Meditation — in which Hillary Clinton and Donal Trump perform a process
of renewal for 4 minutes and 9 seconds.

In [Guided Meditation], both candidates' voices are slowed down so that "umms become omms, and
political jargon, a meditative mantra," said Lavigne.